The Empowered Portrait Experience
Our nudity reveals our most authentic and vulnerable selves. In its sanctification and transcription to an art piece, you can be empowered in your nudity. Unlike boudoir photoshoots or photorealistic paintings, The Empowered Portrait uses hand-painted line work to show the narrative and movement of the drawing session, the voice, and life story of a woman in the exact moment in time which she exists in.
Experience The Empowered Portrait in a sacred, professional, private space and create your own story.
 #nudeisnormal
Let's make your vision happen
I love working with clients on specific works of art for their home, loved one, office, and more. Working face-to-face makes the artwork that much more special — a real co-creation. If you're interested in a nude portrait commission here's how it works:
Detail Session

It helps me to know you more to create a work truly from your vision, so let's book a Detail Session phone call or studio visit. I'll need some basic details: size, medium of interest (work on canvas or paper), and deadline. Email me at studio@haleybowen.com or click the button below to schedule.

Drawing Session

This is the in-studio, nude portrait drawing experience. Expect 2.5 hours in my studio, where you will take on 4-5 poses. From these poses you will pick the one that resonates the most, and I will use the session sketches to create your final art piece. Come as you are, there is no preparation needed from you.

Portrait Delivery

White glove, professional install service is available. This will be discussed during our session. Framing consultation is available for an additional 10%. I will collaborate with you to pick out the right frame and coordinate logistics with my local framing partner.
FAQs
What is your in-studio privacy policy?

My studio is a fully private space with a door that remains closed and locked throughout the duration of your Drawing Session. I take no reference photos and the sketches are seen by no one but the client. Providing a space where you feel safe and respected is my greatest priority.
If I send you photos, what happens with them?

If you are sending me a reference photo, my policy is to destroy/delete every reference photo used as soon as the drawing is complete. Your privacy and keeping your portrait safe, respected, and private is my utmost priority. Please do not hesitate to contact me if you have more questions.

**Please do not send photos unless there has been a Detail Session where this has been discussed.
How much is The Empowered Portrait Experience?

A custom quote will be sent to you after your Detail Session. A 30% deposit is due in order to book your in-studio Drawing Session. The remaining 70% balance is due when work is complete and ready for delivery/pick up.
Do you work with out of state or international clients?

Yes, I can work from photos (see photograph policy) or work with your travel schedule to come to my studio in Houston, TX. If you would like to discuss me traveling to your location for a portrait, please email studio@haleybowen.com.
Do you share my portrait with anyone?

I only share your final portrait with your permission. Your name is never included, only your initials. If you grant permission for your final portrait to be shared, I will showcase it on my website and social media platforms.

Your Drawing Session sketches are never shared and are for my reference while creating your final portrait.
Do I get to keep my Drawing Session sketches?

Yes. I use 18" x 24" fine art paper to sketch the poses and you will receive them upon final artwork delivery.
Do I need to bring anything?

No, come as you are. I will have a robe and slippers for you. Coffee and water are available for you as well. There is a restroom and free on-site parking.
How should I look?

Exactly as you would like to be seen in your portrait. Hair styles worn at the Drawing Session will be reflected in the final portrait.
Do I need to know what style or pose I want?

You may arrive with ideas and inspiration, but this is not a requirement. My goal is for the experience to be as organic as possible. I will guide you pose by pose to help best showcase your story through your body language.
Can I do more than one final portrait?

Yes. During our Drawing Session you will take on four to five poses. If you would like multiple final portraits from these poses, I will provide you with a quote once you decide on medium and size. The final portraits can be different sizes since this is completely custom.
What are the sizing and medium options?

I work in water media on either canvas or paper.

The sizing options are fully custom as I make all of my canvases by hand.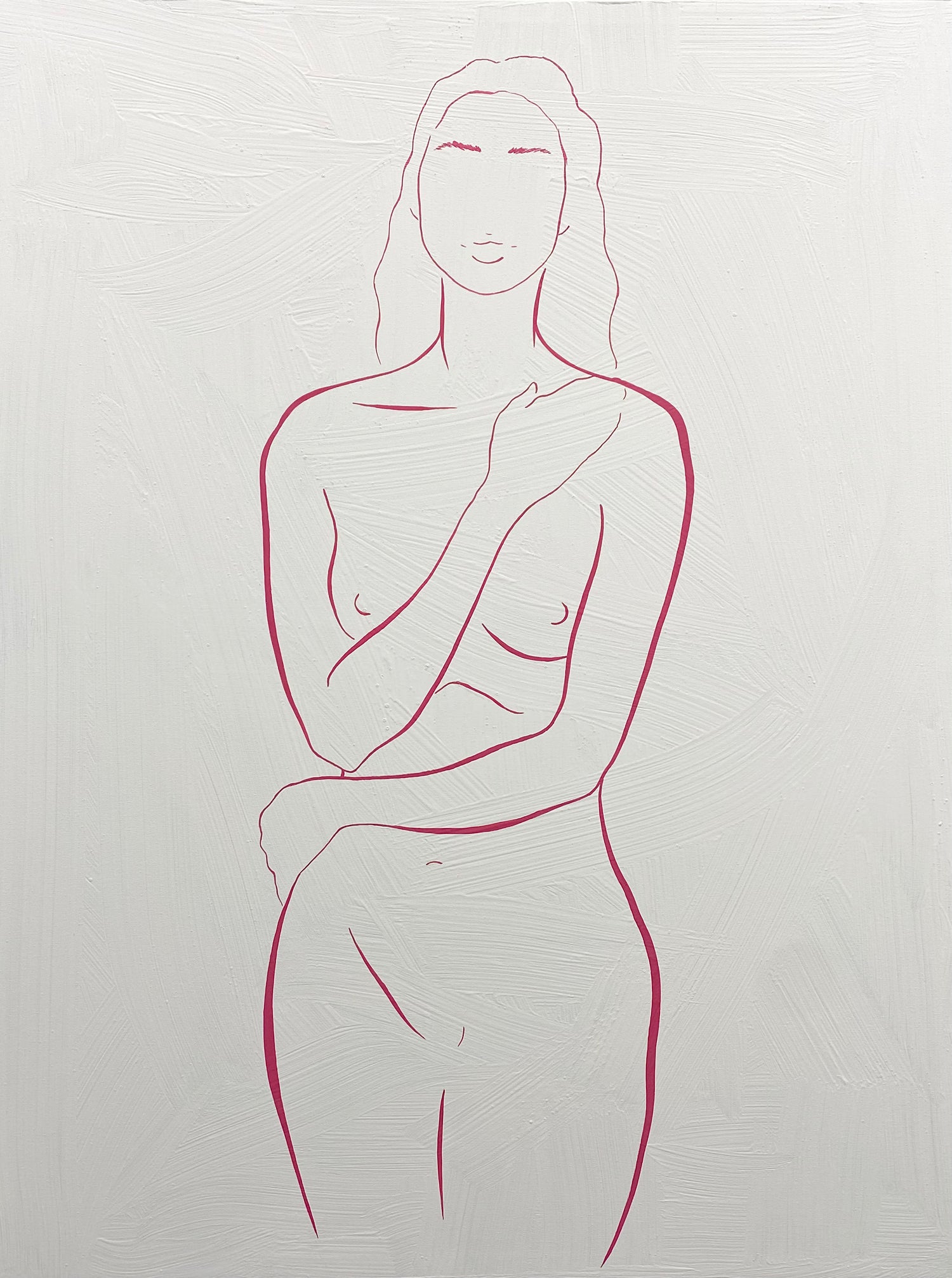 Testimonial from L.S.
"Our bodies are riddled with bias: I'll never be as pretty as her, My legs will never look like that, She's so much stronger than me. We're unable to see ourselves as we actually are, but an artist can. 
The role of an artist is to depict and uncover truth. Standing naked in front of an artist is an act of submission. It's allowing our guard a few glorious minutes of respite. It's vulnerable and raw, and illuminating and powerful. Through Haley's Empowered Portrait, she's able to guide us to a place of acceptance. No longer are we seeing our bodies through our eyes, but through hers.
The lines on the page are absolutes, not opinions. My portrait became a depiction of how I really am, not what I allowed myself to believe. Haley is deeply empathetic. Every figure is sacred and she treats you as such. The Empowered Portrait isn't just a drawing: It's the truest mirror one could ever hope to look into.
Haley's portraits remind us all that we're worthy, beautiful, and celebrated. Being drawn with such intention and clarity was an experience I'll forever appreciate."